Dear Ditto,
I hear a lot about the importance of practicing empathy but how can I apply it in our UX practice?
Let's start by making sure we have a common definition of empathy to build upon. In our work, we consider empathy to be the ability to take the perspective of another person (and see it as their truth) — recognizing the emotional experience of other people and doing our best to stay out of judgment.
For more on empathy from a prominent and articulate researcher of it, watch this video from Brene Brown. She states, "empathy is not a solution, but a connection."
In application, we can use the insights gained from empathy to help us make decisions that improve people's experiences and lives. For more on empathy applied to political and social change we recommend this video interview with Roman Krznaric.
Now that we share an understanding of empathy, let's think about it in the context of User Experience (UX) design.  The good news is that the discipline of UX is itself centered around empathy. In fact, people are the heart of true UX practice.
In the course of my 20+ years as a UX practitioner, I have worked to understand what it means to be a car buyer, a busy veterinarian, a health coach, a social worker managing domestic violence cases, an environmental activist, and even a parent trying to both learn and teach themselves and their children an endangered language. This is the obvious (and fun) part of UX, where we get to dig deep into the lives of our users, create personas and journey maps, conduct user interviews, study analytics and put ourselves into the shoes of others to inform strategy and design. Then, if we are lucky, we conduct post-project research with our users to assess our success and improve our work.
But there is a whole other aspect. While it is true that it is our job in UX to be the advocate for the user, it is also true that in order to do our job well we have to help everyone learn to practice empathy for the user. Not just ourselves and our team members but, just as importantly, our project stakeholders.
This may sound daunting — how do you shift the perspective of an organization to be more empathetic toward users? We like to start from a place of possibility — empathy can be a useful tool for building and sharing excitement (and expertise) about user-centric work. If you can help others to understand the value that user-centered work brings it may drive support for greater investment in UX.
Here are a few suggestions based on my experiences to keep you on track or to get started with practicing empathy:
1.    Teach the practices and outcomes. Let's say you are wondering if your advocacy section is working or it it could be easier for customers to purchase memberships or make donations. You may start your evaluation by executing a "heuristic" or "expert" evaluation for your website. For those unfamiliar with a heuristic evaluation - it is a way to test whether a website is user friendly. Unlike user-testing, where the website or prototype is evaluated by real world users, in a heuristic evaluation the website or prototype is evaluated by usability experts (possibly you!). Heuristics are essentially rules of thumb so a heuristic evaluation is a form of usability inspection where usability experts judge whether each element of a user interface follows a list of established usability heuristics. At Echo&Co we tend to use Jakob Nielson's 10 heuristics.
After you complete your heuristic evaluation you may have uncovered some insights that you are ready to share with your stakeholders.  But let's think about how to share them. Your stakeholders may have worked hard to get the features and content in place that are there now and may feel threatened or simply exhausted by your review. One way to address this is to teach the practice and the outcomes. Give your stakeholders a framework for putting users first and you will be practicing empathy for your stakeholders as well as your users.
Recently I created an exercise for project teams to complete before I deliver my heuristic evaluation reports.  I walk them through each of Nielson's heuristics giving them a few examples of each. This is really important because they sound very academic and can be hard to imagine. I then give them a website to evaluate that they will likely see as aspirational or as a serious competitor in their field. Depending on the number of people I may split them into teams and give them a handful of pages and heuristics to evaluate against. What I always find is that they struggle with this. It is one thing to read and think you understand the heuristics, but another to actually apply them in practice. This struggle is where they learn the concepts. After they get comfortable using them they are delighted to find even their top competitor's website is flawed (so far we've never encountered a perfect website.)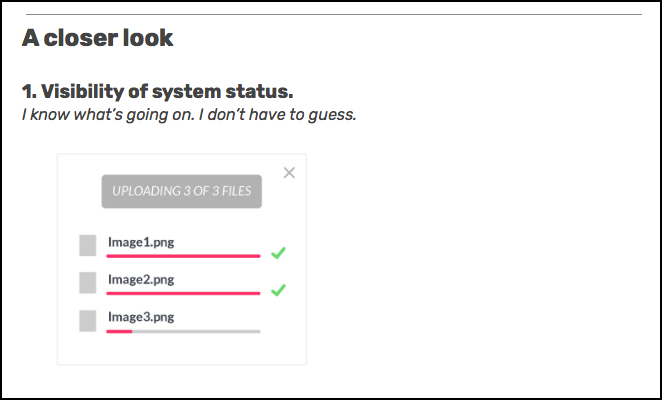 * Send us an email at connect@echo.co if you would like to receive a copy of the Heuristic Evaluation Teaching Exercise.
2. Try Empathy Mapping. There may come a time when you or someone in your organization are unable to understand someone else's perspective. Or perhaps you are having a hard time prioritizing the needs of your users. Empathy mapping is a tool that is available to you. Consider having a working session where everyone is provided with a map visual (see example below) and you brainstorm to fill it out together. If it makes sense, it can be enlightening to ask each of your team members to talk about the last time they interacted with a user. Think of creative ways to split the tasks depending on the size of your group. Get sticky notes and get people up, moving, and thinking. Provide your expertise and any data you have along the way. Once completed, this map should be a source of truth throughout the entire project.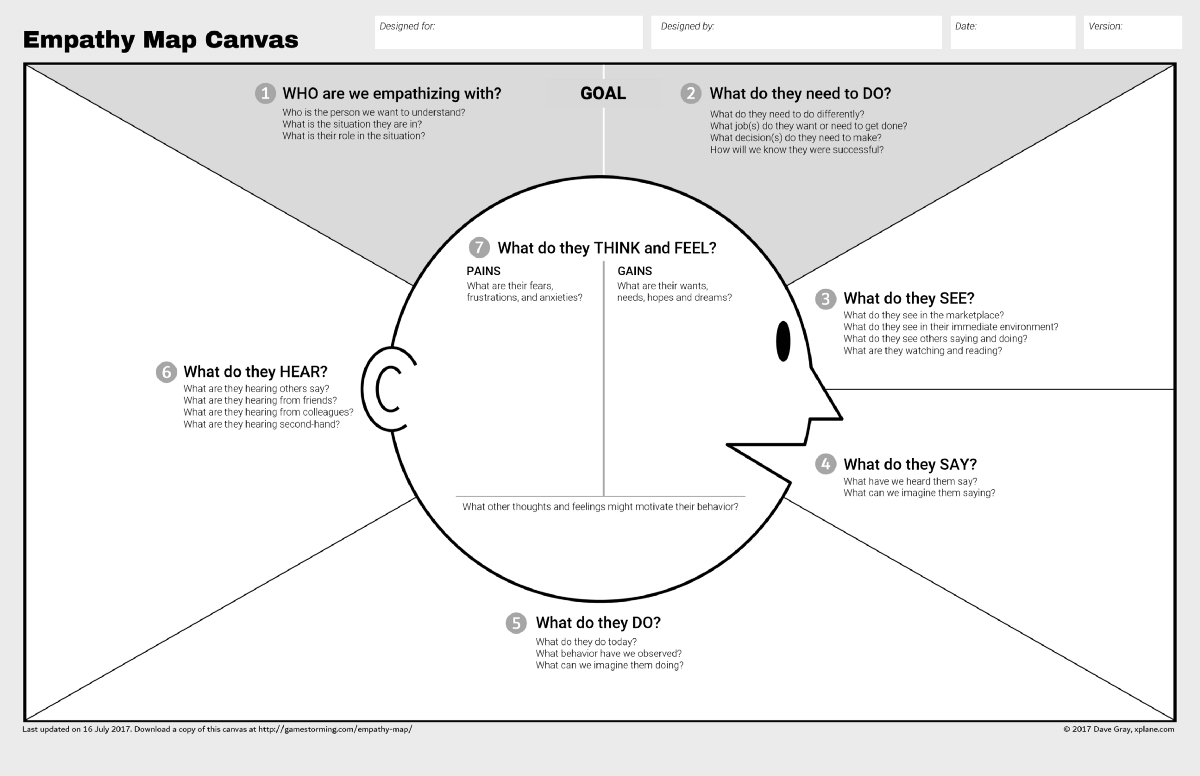 *There are variations on this empathy map available online for you to customize for your project needs and lots of good information and assistance on filling them out. Here is one great resource: https://www.nngroup.com/articles/empathy-mapping/
3.    Spend time with real users (and gather insights). This one doesn't always apply or isn't always possible, but if you are designing a website or application for a specific set of users, be physically present with them. We all know how powerful user research is. Even if you aren't conducting usability testing or other research maybe you can find time to meet your users. Take your project stakeholders with you! For example, at Echo&Co we are building a browser-based application for some specialized low income pet clinics. Our team spent a few days on site following vets and vet techs to see what their day was like and how their current paper system was actually working in real life. We asked several questions: What shortcuts were they taking, what were their pain points, what did they find most useful for getting through their busy day? Those findings were crucial for creating an application that is actually helpful to these workers.
* For information and support on conducting usability testing here is a good resource: Handbook of Usability Testing: How to Plan, Design, and Conduct Effective Tests
4.    If you can't spend time with real users, go guerilla. Guerilla research, defined well by Russ Unger and Todd Zaki Warfel is "a fast and low-cost way to gain sufficient insights to make informed decisions."
Maybe your clients or stakeholders don't agree on a navigation label or some other element of the UX work but there is no budget for user research. That is no excuse not to gather some insights. There are tons of examples of guerilla research available online. You could just let the strongest voice win or insist you are right or take a vote but your clients might also appreciate if you put together a quick study at usabilityhub.com. You can even just gather insights from your own social and professional networks to help inform decisions. In this example below, I wanted to find out how people feel about the words "neighborhood" versus "community." The results were articulate and conclusive and helped make an important navigation decision.

Whether or not these examples and resources are helpful to you based on your work environment, I hope what you can take away is that you have to lean into your own vulnerability.
Embrace the fact that you don't have it all figured out yet and take people on your journey of learning! Be curious and seek insights rather than just hoping you have all the answers. Find ways to share and make everyone around you a little smarter about UX.