Asian Americans Advancing Justice (AAJC) is an organization dedicated to advocating for and protecting the civil rights of Asian Americans and underserved communities in our country.
Why Echo&Co
AAJC first came to Echo&Co to get out from under the limitations both their technology and visual design had imposed on their ability to reach, educate, and motivate their audiences. Together, we embarked on a total redesign of the AAJC website in Drupal 8.
Our Approach:
Content Strategy & Definition 
Information Architecture
User Experience Definition
Responsive User Interface & Interaction Design
Drupal 8 Development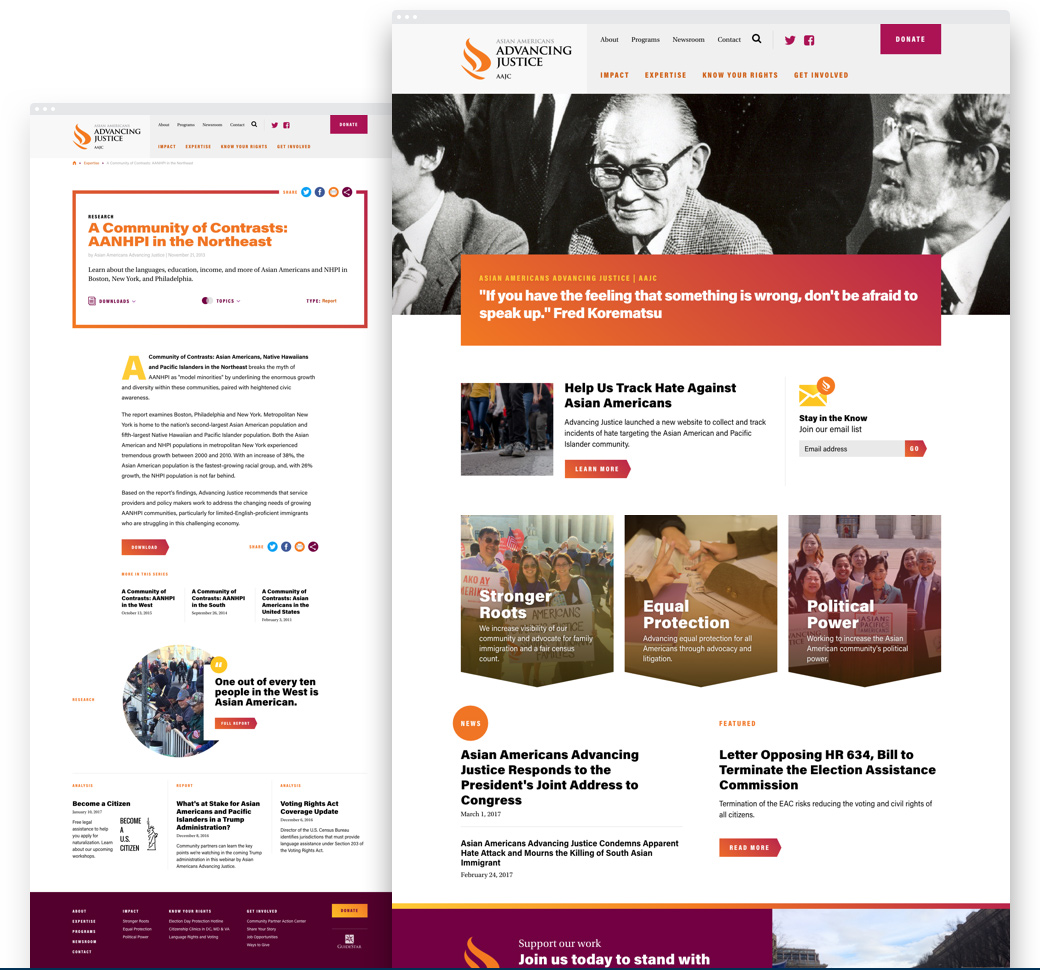 Eliminating obstacles for content authors
Like a lot of organizations, AAJC staff was paying the price in time and headaches for the technical limitations of their content management system. Simple content changes needed to go through developers, who were also spending too much time dealing with a multisite implementation that had outlived its usefulness. By building the new AAJC home in Drupal 8, it not only gave their staff best-in-class content editing tools, but it also laid a strong technical foundation for developers to build atop without the pain.
Designing to match the organization
One of the largest issues we tackled together was the dated look and feel of not just AAJC's website design, but also in the content and imagery it projected. AAJC represents a vibrant and diverse constituency, so we worked towards a professional website that uses content and photography to project a message of inclusiveness.
Elevating the right content
AAJC are experts in their field and have a wide breadth of content, but their old website was making it hard for users to find what they needed. In addition to rebuilding the navigation and information architecture for the entire site, we built in tools for cross-linking contents of various types to promote findability in search engines and so users could find similar or recommended content without a hassle.