Project AWARE is the world's largest diver, ocean conservation, and marine biodiversity organization, with more than 1.2 million divers, dive leaders, dive shops, and activists who are part of the movement.
Why Echo&Co?
It's incredibly rewarding to work with an organization long term and have the opportunity to stay with a website and partner through not just one but two redesigns. In 2010, Project AWARE approached us to lead its online community platform and engagement strategy. Six years later, after continued support and enhancements, we began the upgrade of their community platform including a whole new responsive design, streamlined information architecture and user experience, and a backend upgrade from Drupal 6 to Drupal 8. 
Our Approach:
Stakeholder & User Surveys
Heuristic Evaluation
Information Architecture
User Experience Definition
Responsive User Interface & Interaction Design
Drupal 8 Development
Automated Content Migration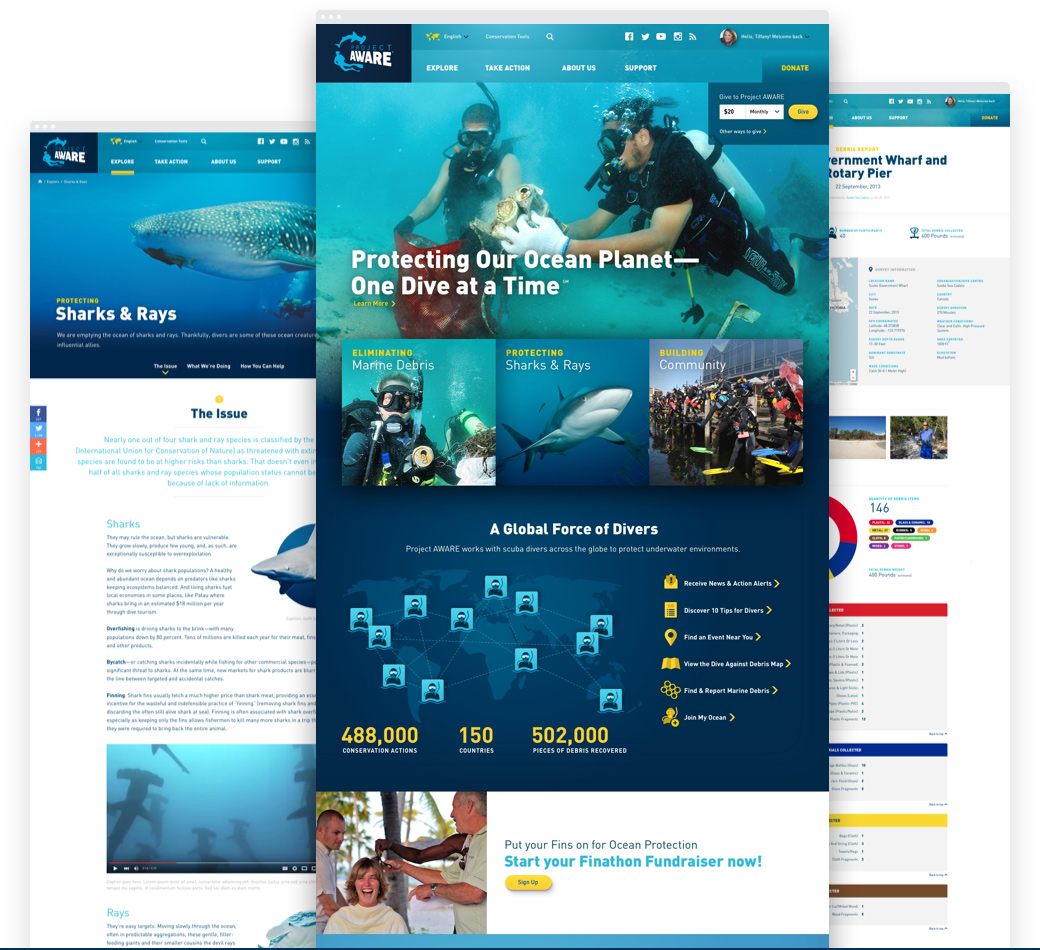 Expanding new audiences
The 2010 site gave Project AWARE's environmentally conscious members the tools to connect, collaborate, and visualize their impact through the MyOcean community. Our latest redesign maintained those capabilities but also expanded on their other core issues in a way that could attract new audiences who weren't as familiar with their work—or as comfortable under water. We aimed to expand their reach while still highlighting and embracing their international diving community by providing long-form issue primers, highly visible impact statements, and easily relatable and discoverable content. 
Upgrading the platform
It was crucial to maintain the tools and resources from the current site, including extensive and highly customized maps, lengthy dive surveys, gamification techniques, and user-generated-content collection. Rather than develop on a system that had a shorter shelf-life (Drupal 7) we determined that Drupal 8 was stable and mature enough to make the leap. The result was a faster, easier to maintain backend with built-in functionality and content management ease. Together we'll be able to continue to expand and refine the user experience for years to come.